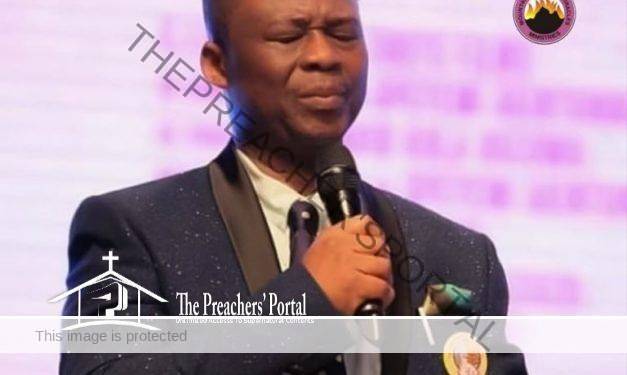 MFM Daily Devotional || 19th November 2021 | Friday (PMCH)
MFM Daily Devotional || 19th November 2021 | Friday (PMCH)
CLICK HERE FOR PREVIOUS READING 
Mountain Top Life || MFM Daily Devotional For 19 November 2021; Friday Devotional Message Written By Dr D.K Olukoya (PMCH) – Sardis: The Dead Church
TOPIC: Sardis: The Dead Church
MEMORY VERSE: Acts 3:19 – Repent ye therefore, and be converted, that your sins may be blotted out when the times of refreshing shall come from the presence of the Lord.
FIRE SCRIPTURE:
3 And unto the angel of the church in Sardis write; These things saith he that hath the seven Spirits of God, and the seven stars; I know thy works, that thou hast a name that thou livest, and art dead.
2 Be watchful and strengthen the things which remain, that are ready to die: for I have not found thy works perfect before God.
3 Remember therefore how thou hast received and heard, and hold fast, and repent. If therefore thou shalt not watch, I will come on thee as a thief, and thou shalt not know what hour I will come upon thee.
INVEST IN IRAs, SECURE YOUR FUTURE
4 Thou hast a few names even in Sardis which have not defiled their garments, and they shall walk with me in white: for they are worthy.
5 He that overcometh, the same shall be clothed in white raiment; and I will not blot out his name out of the book of life, but I will confess his name before my Father, and before his angels.
6 He that hath an ear, let him hear what the Spirit saith unto the churches.
MESSAGE
The fifth letter in the book of revelation was written to the Sardis Church and it was a sad one indeed. Only a few had not soiled their garments. The church in Sardis was spiritually lifeless, with only a few of its members remaining faithful to the true message of Christ.
ALSO, READ MFM Daily Devotional 13th October 2021 | 70 Days Prayer Points
Outwardly, it appeared alive and active and had a reputation of success and spirituality but that was past glory. The church in Sardis might have had seemingly effective ministries and a dynamic form of worship but was void of the purity and power of the Holy Spirit. The church's reputation might have fooled a lot of people but Jesus saw the secret lives and hearts of all the people.
He saw a form of religion but not true spirituality. Not a single commendation was given to the church at Sardis. For a better understanding, let's look at a bit of the history of Sardis. Seven hundred years before the letter was written, Sardis was one of the greatest cities in the world. It was a very wealthy city with a river full of gold.
MFM Daily Devotional 19th November 2021 | Friday (PMCH)
The greatest king of Sardis, Croesus, was the richest man ever to have lived up to that time. The city was built on a hill so steep that the dwellers were very comfortable and secured and they believed nobody could conquer them because of the natural defence of the city. But they were conquered and captured on two occasions.
ALSO, READ MFM Daily Devotional 8 September 2021 (PMCH) | Prayer Points
Beloved, this is the city that Jesus Christ wrote to. The condition of the church in Sardis should prompt churches and individual Christians today to examine themselves and see whether they are alive and growing spiritually. The Bible says that the things that are written are for our learning. It means that we need to identify all the Lord condemned in the Sardis Church and ensure that they are not parts of our personal lives as well as our church.
The Lord said that though the Sardis Church appears to be alive, it is dead. It means that the church is no longer yielding fruits unto God and not profitable to heaven. The Lord added that the church should repent so that the few other things that remain of it will not die. The Lord also noted that only a few in Sardis had not stained their garments with sin. He expected the church to do a lot better.
MFM Daily Devotional 19th November 2021 | Friday (PMCH)
I pray that you will not fail and disappoint heaven, in the name of Jesus. Beloved, learn from the pitfalls of the Sardis Church and make amends. Jesus called the church to repentance. He is calling you to repentance as well today!
MOTIVATIONAL QUOTE: I belong to Jesus' generation, what about you?
PROPHETIC WORD: I shall walk with the Lord in the land of the living, in the name of Jesus.
HYMN: Revive Thy work, O Lord!
Revive Thy work, O Lord!
Thy mighty arm make bare;
Speak with the voice that wakes the dead,
And make Thy people hear!
Chorus
Revive Thy work, O Lord,
While here to Thee we bow;
Descend, O gracious Lord, descend,
Oh, come and bless us now.
MFM Daily Devotional 19th November 2021 
Revive Thy work, O Lord!
Disturb this sleep of death;
Quicken the smould'ring embers now
By Thine Almighty breath.
Revive Thy work, O Lord!
Create soul thirst for Thee;
And hung' ring for the bread of life,
Oh, may our spirits be!
Revive Thy work, O Lord!
Exalt Thy precious name:
And by the Holy Ghost,
Our love For Thee and Thine inflame.
PRAYER POINTS
MORNING
1. Revival fire, pass through my life, in the name of Jesus.
2. My Father, deliver me from spiritual death, in the name of Jesus.
3. O Lord, give me the grace to lay aside the works of darkness, in the name of Jesus.
EVENING
4. My Father, help me to be on fire for you, in the name of Jesus.
5. Sin will not have dominion over my life, in the name of Jesus.
6. O Lord, let my heart be fixed on you, in the name of Jesus.
7. Jesus, help me not to disappoint you, in the name of Jesus.
BIBLE IN ONE YEAR
Galatians 1-3
THANK YOU FOR READING 
MOUNTAIN TOP LIFE || MFM DAILY DEVOTIONAL  is a daily devotional by Dr D.K Olukoya (General Overseer, Mountain of Fire and Miracle Ministries, Worldwide)
ARE YOU BORN AGAIN? IF NO ACCEPT JESUS NOW
Accept Jesus Christ today and secure a life of eternal rest and Glory …
Say this 1 Minute Prayer 

Lord Jesus, I believe you died for my sins, Forgive me of all my iniquities. I accept you as my Lord and Saviour from today and forevermore. Come and Be the Lord of my life and I am willing to obey your command and live according to your will as you help me, Thank you for accepting me into your fold. AMEN

JOHN 3: 3 Jesus answered and said unto him, Verily, verily, I say unto thee, Except a man be born again, he cannot see the kingdom of God