Open Heaven Devotional
Open Heaven | 1 December 2021 | RCCG Devotional & Prayer Points
Open Heaven | 1 December 2021 | RCCG Devotional & Prayer Points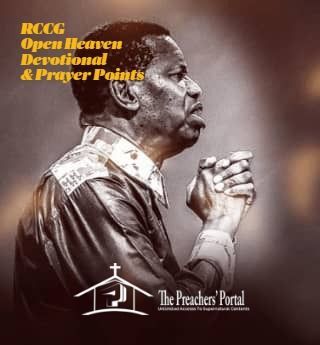 Open Heaven | 1 December 2021 | RCCG Devotional & Prayer Points
Open Heaven | 1 December 2021 | RCCG Devotional & Prayer Points
CLICK HERE FOR PREVIOUS READING 
Open Heaven 1st December 2021 RCCG Daily Devotional For Wednesday – Written By Pastor E. A. Adeboye –  Christian Social Responsibility – With Prayer Points
 TOPIC: Christian Social Responsibility
MEMORISE: But when thou doest alms, let not thy left hand know what thy right hand doeth: – Matthew 6:3
READ: Matthew 6:1-4 (KJV)
1 Take heed that ye do not your alms before men, to be seen of them: otherwise ye have no reward of your Father which is in heaven.
2 Therefore when thou doest thine alms, do not sound a trumpet before thee, as the hypocrites do in the synagogues and in the streets, that they may have glory of men. Verily I say unto you, They have their reward.
3 But when thou doest alms, let not thy left hand know what thy right hand doeth:
4 That thine alms may be in secret: and thy Father which seeth in secret himself shall reward thee openly.
BIBLE IN ONE YEAR: Habakkuk
OPEN HEAVEN FOR TODAY
MESSAGE:
Some people may think that Christian Social Responsibility (CSR) is a twenty-first-century concept, but that is not so. In fact, CSR has been in existence since the Old Testament days. I encourage you to read Leviticus 19:9-10; you will see from that Scripture that social responsibility had already been entrenched in the law of sowing and reaping among the children of Israel, and by extension children of Abraham in the faith.
When you cater for the poor, you are ministering deliverance to yourself; indeed Psalm 41:1 says that for anyone who does this "…the Lord will deliver him in time of trouble." Be they financial, physical, spiritual, marital, or career troubles, God will deliver you when you help the less privileged.
When the widow of Zarephath was giving her last meal to the prophet, she could not have known that she would be reaping deliverance from starvation for the next three and a half years, for yourself and her household. Psalm 41:2 also says the Lord will preserve those who remember the poor and keep them alive. Thus, if you want long life, one of the surest ways of getting it is by giving to the poor.
Open Heaven 1 December 2021 | RCCG Devotional
Today's Scripture reading tells us how best to execute our CSR projects before the Lord. God's way of doing CSR is such that we do not seek the commendation of men like the people of the world, especially when politicians want people's votes. When we engage in charitable deeds and then invite the media to broadcast it so we can receive commendation from the world, we are doing the direct opposite of what Jesus wants. I spoke extensively on this in one of my telecasts during the COVID-19 pandemic early last year. According to Matthew 6:2, we lose our eternal reward when we advertise our acts of social responsibility just because we seek human commendation. However, when we do our social responsibility Jesus' way, our reward is eternal. Matthew 6:4 says:
ALSO, READ Open Heaven 20 May 2021 Daily Devotional
"…and thy Father which seeth in secret Himself shall reward thee openly."
Beloved, remember the poor around you and be sure to put a smile on the face of at least one person in need today. As you do, don't forget to do it Christ's way. God will bless you abundantly as you do, in Jesus' name.
Open Heaven 1 December 2021 | RCCG Devotional
PRAYER POINT:
Father, as I go about doing what You ask of me today, please help me not to miss my blessings, in Jesus' name.
 HYMN 13: I've A Message From The Lord, Halleluyah
1. I've a message from the Lord, Hallelujah!
The message unto you I'll give;
'Tis recorded in His word, Hallelujah!
It is only that you "look and live."
Refrain:
Look and live, O sinner, live,
Look to Jesus now and live;
'Tis recorded in His word, Hallelujah!
It is only that you look and live.
2. I've a message full of love, Hallelujah!
A message, O my friend, for you:
'Tis a message from above, Hallelujah!
Jesus said it and I know 'tis true.
Open Heaven 1 December 2021 | RCCG Devotional
3. Life is offered unto you, Hallelujah!
Eternal life your soul shall have,
If you'll only look to Him, Hallelujah!
Look to Jesus, who alone can save.
4. I will tell you how I came, Hallelujah!
To Jesus when He made me whole:
'Twas believing on His name, Hallelujah!
I trusted and He saved my soul.
Open Heavens 1st December 2021 Daily Devotional guide was written by Pastor E.A. Adeboye, the General Overseer of the Redeemed Christian Church of God, one of the largest evangelical churches in the world and also the President of Christ the Redeemer's Ministries. The Open Heavens devotional application is available across all mobile platforms and operating systems: iOS, Android, Blackberry, Nokia, Windows Mobile and PC.
Prayer Points 1st December 2021 For Open Heaven Wednesday
Open Heaven Prayer Points Today 1 December 2021
PRAYER POINTS
1.Thank You, Father, for where You started with me, for where I am, and for where You are taking me; and, thank You, for blessing me with all spiritual blessings in heavenly places, in Christ Jesus.
2.Thank You, Father, for Your unfailing love and promises over my life and destiny; and for all the people You have used to get me to where I am today.
3.Father, please, give me a heart of pity, compassion and love for the poor and the less privileged, around me, in Jesus name.
4.Father, let me never block my ears to the cry of the poor, so that, whenever I cry to You for help, You will hear me, in Jesus name.
5.Father, please, give me the grace to help those that I have the capacity to help, who are still struggling to find their feet in life, in Jesus name.
Open Heaven 1 December 2021 | RCCG Devotional
6.Father, let me not lag behind in the efforts of the church to put smiles on the faces of the poor and the needy, through the Christian Social Responsibility program, in Jesus name.
7.Father, put into my hands, the seeds that I will sow, regularly, into the lives of the poor, the needy and the vulnerable, around me and in our society, in Jesus name.
ALSO, READ MFM Prayer Points For The Month Of December 2021 (PMCH)
8.Father, please restore to Your Church the spirit of caring, sharing and love, in Jesus name.
9.Father, please help us to always remember the poor, the homeless and the needy and assist them in every way we can in Jesus Name
10.Father, empower our house fellowship centres to care for the needy in Jesus Name.
11.Father, bless your son, Pastor Enoch Adejare Adeboye and his entire household. Perfect everything concerning them, in Jesus' name
Open Heaven 1 December 2021 | RCCG Devotional
12.Father, bless Your son that You have been using to prepare these prayer points, beyond measures, and all those who have been rebroadcasting them, in Jesus' name.
13.Father, let every challenge, hindrance and obstacle of getting these prayer points across to Your children, timely, and on daily basis be removed, in Jesus' name.
14.Your Personal petitions.
( Philippians 4:6)
15.In Jesus' name, I pray.
(John 14:13-14; 15:16)
16.Thank you Father for answered prayers.
(1 Thessalonians 5:18).
Special Note:
These prayer points are not written by Pastor E. A. Adeboye, but by one of his numerous disciples, for Christ, who was inspired and mandated by the Holy Spirit, about 5years ago, (effective January 1st, 2015), to start writing these prayer points, based on the Open Heavens Daily Devotional, authored by Pastor E. A. Adeboye
ALSO, READ RCCG Open Heaven | 19 October 2021 | Devotional & Prayer Points
THANK YOU FOR READING 
ARE YOU BORN AGAIN? IF NO, ACCEPT JESUS NOW
Accept Jesus Christ today and secure a life of eternal rest and Glory …
Say this 1 Minute Prayer 

Lord Jesus, I believe you died for my sins, Forgive me of all my iniquities. I accept you as my Lord and Saviour from today and forevermore. Come and Be the Lord of my life and I am willing to obey your command and live according to your will as you help me, Thank you for accepting me into your fold. AMEN

JOHN 3: 3 Jesus answered and said unto him, Verily, verily, I say unto thee, Except a man be born again, he cannot see the kingdom of God