Donald Lawrence – Awake O' Zion (Remix) || Audio & Lyrics
Get this new song by Donald Lawrence titled "Awake O' Zion (Remix)" fc. This song is from his latest album POWER; A Tribute To Twinkie Clarke, 2023, alongside the official video and lyrics.
SongTitle: Awake O' Zion (Remix)
Album; Power: A Tribute to Twinkie Clark
Artiste; Donald Lawrence
Genre: Gospel
Released: 15 September 2023
Duration: 07:36
Donald Lawrence is a renowned multi-award-winning American contemporary worship minister, songwriter and music director.
On this page, you can download this new gospel song 'Awake O' Zion (Remix)' By Donald Lawrence right here in mp3 format by clicking on the link below;
Donald Lawrence – Awake O' Zion (Remix) || Audio & Lyrics
LYRICS; Donald Lawrence Awake O' Zion (Remix)
Awake, awake, awake
Put on thy strength O' Zion
Awake, awake, awake
Put on thy strength
Awake, awake, awake
Put on thy strength O' Zion
Awake, awake, awake
Put on thy strength
O' Zion, put on thy strength (O')
O' Zion, put on thy strength (Zion)
O' Zion, put on thy strength (O')
O' Zion, put on thy strength (Zion)
Awake, awake, awake
Put on thy strength O' Zion
Awake, awake, awake
Put on thy strength
Awake, awake, awake
Put on thy strength O' Zion
Awake, awake, awake
Put on thy strength
Shake
Shake thyself
From the dust of the ground
Sit down
Shake
Shake thyself
From the dust
Sit down
Shake
Shake thyself
From the dust of the ground
Sit down
Shake
Shake thyself
From the dust
Sit down
O' Zion, put on thy strength (O')
O' Zion, put on thy strength (Zion)
O' Zion, put on thy strength (O')
O' Zion, put on thy strength (Zion)
O' O' O' O' Zion
O' O' O' O' Zion
O' O' O' O' Zion
O' O' O' O' Zion
O' Zion, put on thy strength
O' Zion, put on thy strength oh
O' Zion, put on thy strength
O' Zion, put on thy strength
O' Zion, put on thy strength (O')
O' Zion, put on thy strength oh (Zion)
Awake, awake, awake
Put on thy strength O' Zion
Awake, awake, awake
Put on thy strength
Awake, awake, awake
Put on thy strength O' Zion
Awake, awake, awake
Oh
Let us wake in the face
Of the truth of thy way
O' Zion
O' Zion
Zion
Zion
Zion
Oh shake (O' Zion)
Shake thyself
From the dust of the ground (O' Zion)
Sit down
Oh
O' O' O' O' Zion
O' O' O' O' Zion
O' O' O' O' Zion
O' O' O' O' Zion
Oh
O' O' O' O' Zion
O' Oh Mm Oh
O' O' O' O' Zion
O' O' O' O' Zion
O' O' O' O' Zion
O' O' O' O' Zion
(Ooh)
O' O' (O' Zion)
O' O' Zion (Put on thy strength)
O' O' (O' Zion)
O' O' Zion (Put on thy strength)
O' O'
O' O' Zion
Take this shield of faith (Ooh, put on)
And knock em' away (Put on thy strength, yeah)
O' O' O' O' Zion, put on thy strength
O' O' O' O' Zion, put on thy strength
Take this shield of faith
And knock em' away
Take the breastplate
Of righteousness
O' O' O' O' Zion, put on thy strength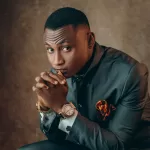 I Am A God-kind Gospel Blogger, Gospel Content Writer, Evangelist, Songwriter, Teacher and Soul-Winner and the Chief-editor of ThePreachersPortal.Org. Right here, you will get access to the Latest and Trending Gospel songs worldwide, Live Streams, Audio Messages, Motivational Articles and Inspirational content as we share them for free. Follow me on social media to learn more about this movement. -ThePreacherMan