Donald Lawrence – Fix Me Jesus (Audio & Lyrics)
Get this new song by Donald Lawrence titled "Fix Me Jesus" . This song is from his latest album POWER; A Tribute To Twinkie Clarke, 2023, alongside the official video and lyrics.
SongTitle: Fix Me Jesus (MP3 Download)
Album; Power: A Tribute to Twinkie Clark
Artiste; Donald Lawrence
Genre: Gospel
Released: 15 September 2023
Duration: 05:41
Donald Lawrence is a renowned multi-award-winning American contemporary worship minister, songwriter and music director.
On this page, you can download this new gospel song 'Fix Me Jesus By Donald Lawrence right here in mp3 format by clicking on the link below;
Download Fix Me Jesus By Donald Lawrence
LYRICS; Donald Lawrence – Fix Me Jesus
Tymple
When I get the feeling of adrenaline
Down with the ceiling and
I'm paranoid
Like Lord what I'm dealing with
What is these voices
And why am I hearing this (Why am I hearing this)
Sermon of joy (Sermon of joy, fix me, Lord)
But why ain't it healing it though
Yeah
Fix me
Do it Jesus
You made me
You know I need You
You chose me for Your people
Yeah
Yeah
I got a lot to lose here
I got too much to do here
And can't nobody else here do it
Oh, oh, fix me (Oh, oh, fix me)
Oh Lord, Lordee fix me (Oh, Lord, fix me)
Fix me Jesus (Fix me, Lord)
Oh Jesus
Fix me, Lord
Oh Lord
Oh, fix me (Oh, oh, fix me)
Oh, fix me (Oh, oh, fix me)
Oh Lord, fix me (Oh, oh, fix me)
Oh Lord (Fix me, Jesus)
Fix me Jesus (Fix me)
Fix me
Donald Lawrence – Fix Me Jesus
Fix me for my long white robe (Fix me, Jesus, fix me)
Fix me for my summoned home (Fix me, Jesus, fix me, Jesus)
Fix me for my dying bed, Lord (Fix me, Jesus, fix me, oh)
Fix me for my wine and bread (Fix me, Jesus)
Fix me, Jesus (Fix me, Lord, fix me, Lord, oh)
Oh Lord, fix me
Oh Lord, fix me (Me, oh)
Oh, fix me (Come on, I can't do nothing for You)
Fix me, Jesus (Until You fix me)
Fix me (Please, fix me Lordee)
Fix me, Lord
Fix me, Lord
Fix me, Lord
Fix me, Lord
Fix me
Fix me for my tombstone (Fix me, Jesus, fix me)
Oh Lord, fix me
Fix me for my heavenly home (Fix me, Jesus, fix me)
Lord, You are the potter (Yes, He is)
And I am the clay (Yeah, yeah)
Mold me and make me (Mold me, yeah)
Lord, have thine own way (It's all about You, Jesus)
My mind, it sometimes wanders (Mm)
It rambles here and there (Come on, and cleanse me)
My heart is not conditioned (Yeah, yeah)
Now take it for repair (Ooh, oh)
Donald Lawrence – Fix Me Jesus
Oh Lord, Lord (Oh, oh, fix me)
Won't You fix me, come on, Jesus (Fix me, Jesus, fix me)
Fix this old heart of mine, oh Lord (Fix me, Jesus, fix me)
And fix my mind (Fix me, Jesus)
Woo, fix me (Fix me)
Fix this old heart of mine (Fix me, Jesus)
Yeah
Yeah (Fix me)
Right now, Lord, here I am (Fix me, Jesus)
Fix me, Lord (Fix me)
Fix me, Jesus (Here are my hands)
Fix me (Fix me)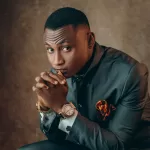 I Am A God-kind Gospel Blogger, Gospel Content Writer, Evangelist, Songwriter, Teacher and Soul-Winner and the Chief-editor of ThePreachersPortal.Org. Right here, you will get access to the Latest and Trending Gospel songs worldwide, Live Streams, Audio Messages, Motivational Articles and Inspirational content as we share them for free. Follow me on social media to learn more about this movement. -ThePreacherMan