Donald Lawrence – My Soul Loves Jesus (Audio & Lyrics)
Get this new song by Donald Lawrence titled "My Soul Loves Jesus". This song is from his latest album POWER; A Tribute To Twinkie Clarke, 2023, alongside the official video and lyrics.
Song Title: My Soul Loves Jesus (MP3 Download)
Album; Power: A Tribute to Twinkie Clark
Artiste; Donald Lawrence
Genre: Gospel
Released: 15 September 2023
Duration: 08:01
Donald Lawrence is a renowned multi-award-winning American contemporary worship minister, songwriter and music director.
On this page, you can download this new gospel song 'My Soul Loves Jesus By Donald Lawrence right here in mp3 format by clicking on the link below;
Download My Soul Loves Jesus By Donald Lawrence
LYRICS; Donald Lawrence – My Soul Loves Jesus
My soul loves Jesus
My soul loves Jesus
My soul thirsteth for Him
I just can't
I can't get enough of Him
He has planted His love so that I find it hard to let go (Woo)
I just can't let You go, Lord
If I try to reject, there's no use
Cause the spirit says no
No
No
No
This love can't be measured
Oh (Oh)
Oh (Oh)
Oh my soul (Oh my soul)
Oh (Oh)
Oh (Oh)
Oh my soul
All day I love Him
Oh, all night I love Him
I can't sleep lest I dream of Him
When I rise
When I rise
When I rise
I always think of Him
His love has a root and abounds me
Way deep down in my soul (Woo)
Never in my life have I felt this way before
No
No
This love can't be measured
All and all will I treasure
Oh
My Soul Loves Jesus By Donald Lawrence
Oh (Oh)
Oh (Oh)
Oh my soul (Oh my soul)
Oh (Oh)
Oh (Oh)
Oh my soul (Oh my soul)
Oh (You are my peace)
Oh
Oh (You are my healer)
Oh
Oh my soul (You are my every)
Oh my soul (Every, everything)
Oh (Oh)
Oh (Oh)
Oh my soul (You're my strength)
Oh my soul (You're my hope)
Oh (Oh)
Oh (Oh)
Oh my soul (I worship You, Jesus)
Oh (None like You)
Oh
Oh (Nowhere)
Oh
Oh my soul (Oh)
Oh my soul
Oh
Oh (When I think of Your goodness)
Oh
Oh my soul (All that You've done for me)
Oh my soul (My soul cries out)
My Soul Loves Jesus By Donald Lawrence
Oh my soul (Hallelujah)
Oh my soul (Nobody can heal You)
Oh my soul (Nobody can touch You)
Oh my soul (Nobody can feel Your light, Jesus)
Oh (My soul)
Oh (My soul)
Oh my soul (Oh my soul)
Oh (My soul)
Oh (My soul)
Oh my soul (My soul loves Jesus)
Oh
Oh
Oh my soul
Oh
Oh
Oh my soul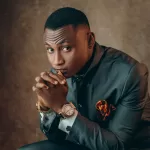 I Am A God-kind Gospel Blogger, Gospel Content Writer, Evangelist, Songwriter, Teacher and Soul-Winner and the Chief-editor of ThePreachersPortal.Org. Right here, you will get access to the Latest and Trending Gospel songs worldwide, Live Streams, Audio Messages, Motivational Articles and Inspirational content as we share them for free. Follow me on social media to learn more about this movement. -ThePreacherMan